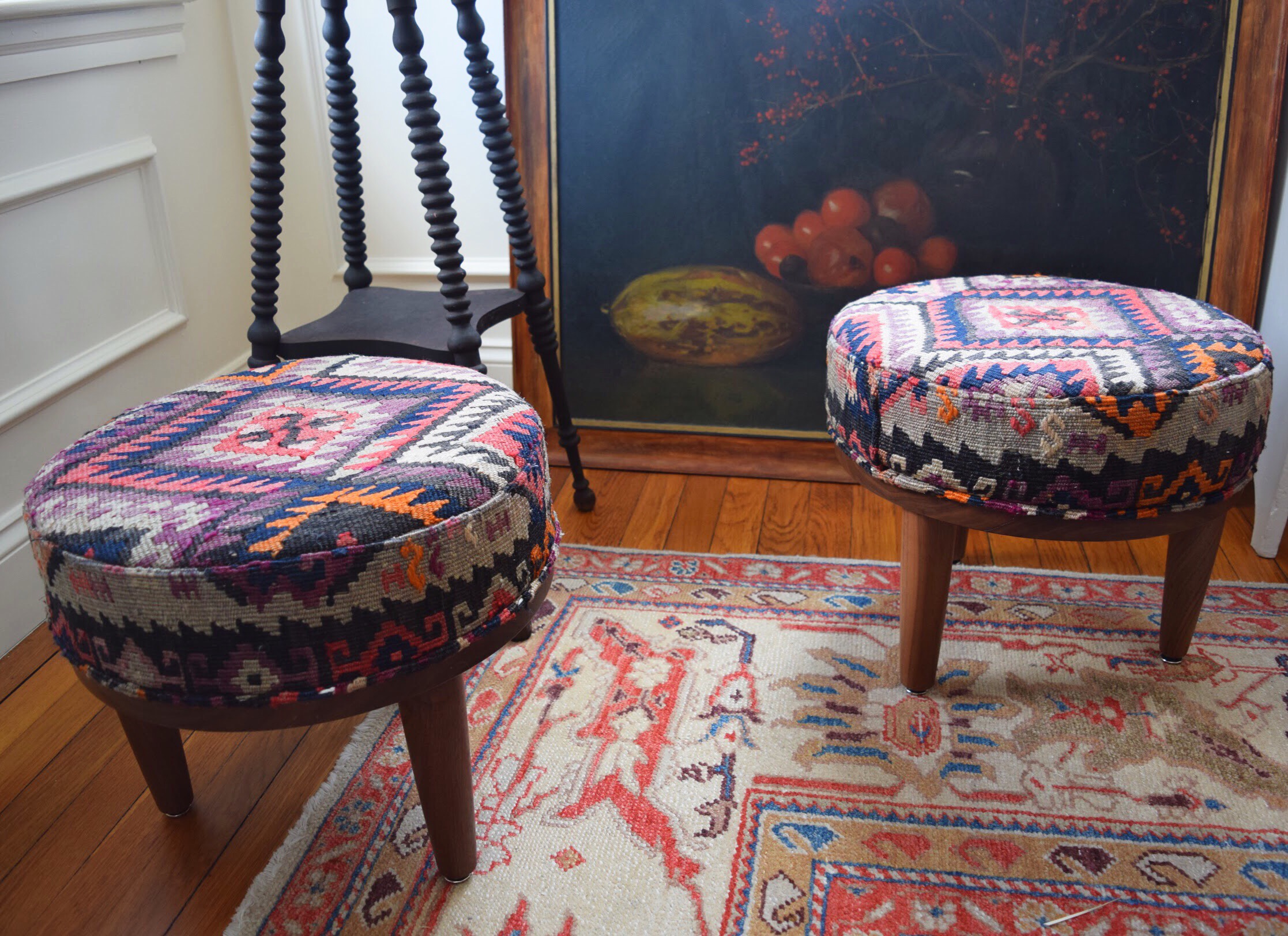 If you don't know Artemis Design Co., you're missing out on one of the most inspiring shoe design companies this side of the Bosporus Strait! Founded by designer Milicent Armstrong in 2013, Artemis Design Co. reimagines the Turkish kilim shoe she first spotted on a trip to Istanbul in 2007. Artemis's shoes are one-of-a-kind, repurposing beautiful kilim textiles into eye-catching AND crazy comfortable footwear.
And how does Trim Design Co. fit into all this? Well, we are both huge fans of Artemis's shoes here at Trim (we each own several pairs and are always eyeing the next pair we'd like to add to our personal collections!). And you know we are huge fans of repurposing textiles and rugs. So, you can imagine our excitement when Artemis Design Co. agreed to team up with us to create the beautiful bespoke kilim and walnut stools you'll find available for pre-sale today in The Shophouse! We are wildly excited about these stools. Just like the shoes from Artemis Design Co., these handmade stools are a contemporary twist on an age-old design. Having one (or a pair!) in your home will instantly inject a pop of originality and style (not to mention comfort) into your space.
We sat down with Artemis Design Co. founder, Milicent Armstrong, to get a behind-the-scenes peek into her style and aesthetic, what inspires her, and what she loves most about her home. Read on to find out more!
Tell us about your company? How did you get your start and what is your mission today?
The idea for Artemis Design Co. was born on a trip to Istanbul in 2007. I saw and fell in love with carpet bags, shoes and all of the other accessories that were repurposed from the beautiful flat-woven textile. Several years later, while attending Interior Design school at the Boston Architectural College, I made my way back to Istanbul, found a small artisan workshop that was willing to work with me, and began production on my first run of products. These first pieces took the concept of repurposing Kilims and coupled it with more modern, classic designs.
The first collection, which was sold out of my South End apartment was an instant hit, and was quickly picked up by renowned retailer Steven Alan. Artemis has grown organically since then and has garnered the attention of major publications, and has also gained a following among interior designers and magazine editors for its unique, one of a kind, but also classic feel.
Our mission now is to make charming shoes for curious people, delivered with uncommon care and delight. We strive to make everyone we touch dream, and every customer we serve feel unique.
Describe your personal style in 5 words or less:
Natural, charming, layered, traditional (but also eclectic!), and most importantly, comfortable- sorry that's more than 5 words!
Do you have a favorite style or pair of Artemis shoes?
It's so hard to choose, but I absolutely love our Kilim Sandals because they are so fun and easy to wear all spring and summer. I also think our Clementine Velvet Loafers are the perfect shoe (that's our leopard style).
How do you choose the rugs for the shoes? Are there certain colors or patterns that you look for?
I look for a big variety of color and pattern- from saturated brights to neutral earth tones. We tend to stick with Kilims that have smaller scale patterns, so that more of the beauty of the Kilim shows up on the small surface area of a shoe.
Do you incorporate vintage textiles into your home or just your footwear?
Yes! We have vintage global textiles all over our home. Carpets and Kilims from all over the world. Suzani bedspreads, and pillow covers made from textiles from Africa, India, and the middle east. I love new and vintage needlepoint and hand stitched pieces as well.
Tell us about your design style for your own home? What kind of an environment are you trying to create?
I'm trying to surround myself with things that I love and have meaning to me, in a cohesive, beautiful way that flows and is a special space to be in. My aunt gave me great advice- "just put together things that you love and make it your own".
Where do you find the most inspiration?
Travel, antique homes, World of Interiors Magazine and Cabana magazine.
What's your favorite room or item in your house?
I love our bedroom. My husband bought us an antique four poster canopy Shaker style bed made from Tiger Wood Maple for Christmas last year. He knew that I had been eyeing it for a long time. It really brings our room together, and it just feels like a treat to sleep in a canopied bed every night! There are so many items I love though- I love to collect meaningful pieces slowly that we never tire of, and I never buy something subpar just because we need to fill a space. I'd rather wait for the right thing to come along, than to settle on a cheap imitation piece. I don't want to give the impression though that our furniture collection is solely made up of expensive antique designer pieces… so many things were found on craigslist, ebay, and yard sales!
Design trend you're hating? I don't care for over-dyed rugs. I'd also have to agree with Annabel that accent walls interrupt the flow of a space. Any kind of signs with sayings or words on them in a space are distracting to me.
Design trend you're loving? Color and maximalism! I love seeing that designers are using more bold color in spaces. In general, I love any home design that is thoughtful and shows the personality of the occupant, rather than a cookie cutter "designed home", with all of the right pieces and colors. I'm loving that pattern is coming back in a big way as well- wallpapers and patterned curtains- I love that.
Biggest Indulgence? Oh boy...we have a midcentury Percival Lafer yellow leather sofa and chair set that I absolutely love. It was our first big purchase when we moved in together. I'm having a really funky spindle chair reupholstered in a favorite velvet textile (something we had previously used for shoes, actually!) and I am so excited to see how it turns out!
What advice would you give your younger self? My main advice would be to relax and care less about what other people think- just do your own thing, be kind to everyone, and enjoy life. I suppose that's good advice for anyone in any stage though!
What's your favorite way to de-stress after a hard day? Cooking while listening to a good audiobook or podcast is bliss. Before bed, I love taking a hot bath with lots of good salts and elixirs from Follain.
What's on your go-to playlist? Usually it's a mix of wilco, the walkmen, kurt vile, and oldies!
Item you never leave home without? Either shoes, or a handbag from Artemis- I'm always repping something! And chapstick ( I love Stewart and Claire La Nuit (an addictive jasmine scent) and at Artemis we buy them by the 100s and offer them to customers as a surprise gift occasionally).
Who would you invite to your fantasy dinner party? Relatives who have passed away. I would love to have another opportunity to ask my grandparents, and great grandparents more about their lives.
How do you take your coffee? With lots of half and half. I love a well made latte also.